AGC Asahi Glass (AGC), a world-leading manufacturer of glass, chemicals and high- tech materials, announces that its glass installation " Amorphous" presented at Milan Design Week 2016 has won this year's Red Dot Design Award in the category of Communication Design.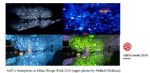 The Red Dot Design Award is a globally renowned design competition, and AGC's Amorphous has been selected for the spatial communication category of the Red Dot Award: Communication Design 2016. Milan Design Week is a world's largest design event held ever y April in Italy. In the second year of participation this year, AGC recreated an amorphous molecu lar structure of glass in a model one billion times its actual size, using approximately 5,000 pieces of various thin, chemically strengthened glass.
The spatial design and lighting were done by NOSIGNER and Izumi Okayasu, respectiv ely. The gigantic glass installation showcased various thin, chemically strengthened glass, including glass that reflects light just li ke mirror, that clearly shows the scenery on the other side, and that changes colors depending on the viewing angle. It allowed the audience to experience a "light, flexible and expressive" glass world that demonstrates the future possibilities of glass.
Under the management policy, AGC plus , the AGC Group will continue to expand the possibilities of glass use into various new fields, in addition to architectural, automotive glass applications, and offer new value and functions around the world. *1 Red Dot Design Award The Red Dot Design Award is organized by th e Design Zentrum Nordrhein Westfalen in Germ any. It is awarded in three categories: Product Design, Communication Design and Design Concept.
The Communication Design ca tegory is further divided into 21 fields, including corporate design, brand design advertising, and sp atial communication, and assessed under the following evaluation criteria. Criteria examples: Quality of design and aesthetics, clarity of design concept, the implementation and the chosen medium, functionality, originality, recognition, communication of messages and impacts given to the target group, etc.
Red Dot Design Award website : http://en.red-dot.org