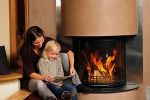 With the Winter chill now set in and efficient heating being a red hot topic; the flicker of the flame is literally adding fuel to the debate on how to best optimise fireplaces. Interior designers, architects, builders and homeowners are investing in contemporary fireplaces to save on energy costs while adding brilliance to new houses or traditional home renovations, with fire-fuelled fireplaces providing a warm focus for the heart of the home.
Hand in hand with the resurgence in fireplaces has been a plethora of options spanning state of the art modern free-standing designs to traditional hearths providing the catalyst for SCHOTT Australia to create a one-stop solution at atmosfire.com.au. The site is a red-hot resource for heating appliances enabling visitors to peruse the most aesthetically pleasing, practical and cost effective heating options available from leading fireplace manufacturers.
"A traditional wood fireplace could potentially heat 50m², but there are slow combustion fireplaces on the market which could potentially heat 250m² in the right home, while using at least 30% less fuel. So you can heat far more space with a great deal less fuel. Slow combustion fireplaces are fantastic appliances." says Lesley Aitkin, Marketing and Sales Director at Schott Australia.
She continues, "Adding the advanced technology of SCHOTT ROBAX® glass ceramic viewing panels means you get to see the flames while still enjoying the increased efficiency. We're helping households maximise the heat from every log while enjoying the beauty of their fires. We love that it is great for their hip pocket and great for the environment too."
Demi Brown from Australian Home Heating Association (AHHA) offers heating tips for homeowners wanting to save money on energy bills.
"For money-savvy homeowners who enjoy the warmth of a wood heater and are looking for nifty tips to keep down their heating costs this Winter, we recommend choosing a wood heating appliance that has been tested to the Australian Standards AS/NZS4013 and holds a current certificate of compliance. Choosing efficient modern heating options that incorporate slow combustion and low-emission technology also allows for efficient dispersal of heat throughout the room and home. It is important to choose a correctly sized wood, or pellet-fuelled heater which is appropriate for the space to be heated to ensure the area is heated sufficiently and also avoid fuel and energy wastage," said Demi.
Popular television renovation programs and award winning homes Australia-wide utilising fires as a design focal point; the captivating nature of the flame and its taciturn way of inspiring social interaction are also giving home owners good cause to consider installing a fireplace or up-grading existing hearths with slow combustion wood heaters.
According to Lachlan Gales of the award winning Ovens and King Builders, fireplaces are an easily installed, functional and efficient design feature that add warmth to a home and boosts its resale value.
"Around 60% of my clients are now requesting a fireplace. It's a very easy addition which brings warmth and charm to a space, and adds both livability and monetary value to any home. Slow combustion wood fires are also an excellent option for those concerned with sustainability. By using clean burning and renewable wood for fuel, we reduce our reliance on fossil fuels and their inherent greenhouse gas emissions. Sustainably harvested wood used in airtight, slow combustion heaters provides terrific energy efficiency, using the least wood and reducing cost." explains Lachlan.
Designers, architects and builders are increasingly using the platform atmosfire.com.au to find fireplaces that enhance living spaces while also reducing their carbon footprint. With most modern fireplaces today incorporating the advanced technology of SCHOTT ROBAX® glass ceramic viewing panels into their design making flame heating exceptionally efficient and safe while maintaining the spectacle and romance of the naked flame.
Chris Bligh, architect at Bligh Graham Architects, explains why incorporating a modern fireplace into home designs creates both aesthetic charm and is a functional asset to a living space.
"Often the fireplace becomes the 'hero' of the living space not through stylistic dominance but in a more reticent way through the captivating nature of the flame and its ability to incite the social interaction so often lost in a room where the TV is the hero," Chris says.
The atmosfire.com.au initiative provides a one-stop-information-shop for the growing number of consumers who do their initial research online, by providing a comprehensive catalogue of fireplaces from classic to contemporary together with a list of retailers.
*FAA e-newsletter & Meeting Reminder 24th June 2014.