Preferred journal of Glass Global, the September/October issue of Glass Worldwide is now available. To read selected articles free of charge and order the full paper and digital issues, visit www.glassworldwide.co.uk.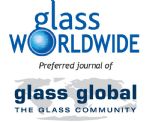 With the latest industry news and a specially compiled Melting Technology feature, over 45 articles include exclusive interviews with industry figureheads, the latest technology innovations, topical market analysis, event coverage and opinions from the international flat, hollow and speciality glass manufacturing and processing communities. Highlights include:
FACTORY SPOTLIGHTS:
O-I Estonia: Following a €25 million upgrade in 2015, Kaido Turro, Plant Manager, exclusively discusses the current performance and priorities of the plant, which is celebrating its 140th anniversary.
Siam Glass: With a fourth manufacturing facility commissioned in Thailand in August, General Manager Viwat Supatham discusses this project which reinforces the glassmaker's continued success.
PERSONALITY PROFILE:
Aaron Huber, Senior Research Manager at Johns Manville is responsible for designing glass furnaces and developing innovative technologies associated with the glass fibre manufacturing process. Dr Huber spoke exclusively to Glass Worldwide about his career history and present-day responsibilities, as well as his role as a GMIC board member and Chairman of the ICG's TC21 technical committee.
FOCUS BRAZIL:
Market reports covering the flat and hollow sectors, including a contribution from the Brazilian Association of Glass Industries (Abividro).
SPOTLIGHT:
Glass Futures: Following the Glass Futures Industry Conference in July, Glass Worldwide, preferred media partner, offers an extensive series of articles that outline the plans for a global centre of excellence in R&D, innovation and training to ensure increased productivity and sustainability in the sector.
ON THE SPOT:
Michel Giannuzzi Chairman and CEO of the Verallia Group and President of FEVE, outlines the federation's objectives to Glass Worldwide, preferred journal of FEVE, as well as describing prevailing market conditions in Europe.
FOCUS ITALY:
Market reports covering the flat and hollow sectors featuring contributions from Assovetro, ATIV and GIMAV.
MELTING TECHNOLOGY:
The first of a two part Buyers Guide devoted to advances and opportunities in glass melting technology. Part two of this feature will be published in the November/December 2019 issue.
TECHNOLOGY:
A series of technical articles covering batch plant, decoration, forming, process control, recycling, tempering and ware handling,
SUPPLIER FOCUSES:
Topical spotlights on the activities of Ferro, Hunprenco and PaneraTech.
ASSOCIATIONS:
Articles from Glass Alliance Europe, Usable Glass Strength Coalition and VDMA covering the latest issues affecting their members.
EVENTS:
Reviews and previews of Glass Focus 2019, GlassTrend 'Process automation and big data' seminar, 15th International Seminar on Furnace Design, Furnace Solutions 2019, 13th AIGMF International Conference, ICG Boston, Sisecam International Glass Conference, 80th Conference on Glass Problems and the GTS PharmaGlass workshop, as well as a comprehensively updated diary of forthcoming events in 2019-2020.
Don't miss out on this bumper issue - to receive the full paper and digital versions, subscribe at www.glassworldwide.co.uk