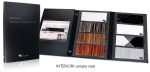 Inspire architects & designers to use digitally printed glass
Hands-on tools are always the best way to sell, which is why we've developed Dip-Tech INTERIORI.
A set of 52 ready-to-print surface designs, INTERIORI replicates the appearance of wood, stone and other materials, alongside additional patterns, in glass. These designs can be printed on panels up to 3m x 1.2m (9.8ft x 3.9ft) in size – and reproduced or reduced as many times as you need, for seamless installation in projects of any size.
INTERIORI includes:
52 high-scale ready-to-print designs which you can just click and print
A printed brochure including images of rooms designed with digitally printed glass
A digitally printed glass catalog with 16 select samples of digitally printed glass
Live webinar training for your marketing, sales and graphics teams
Using these tools, you can effectively communicate Digital-Glass-Printing to customers, giving them a clear visual of how their final glass pieces will look and feel.