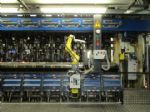 The Swabbing Robot is an automatic blank lubrication technology originally developed by Novaxion from France. It enables full automatic swabbing of blanks and neckrings based on dedicated swab programs for any blank profile. The Swabbing Robot SR200 is a result of the proven concept, with more than 40 units already in operation, worldwide.
Lubricant application
The Swabbing Robot is capable of applying lubricants to any type of blank, from NNPB lightweight bottles to heavy Blow-Blow bottles (for example champagne). Extensive experience with the variety of products has resulted in a very efficient lubricant application, dedicated to any blank profile. How much, when and where the lubricant is applied, is easy and flexible to program, in the intuitive User Interface of the Swabbing Robot.
Efficient and effective
The system can swab on-the-fly (no section stops), is able to lubricate the full profile of the blank and even the neck rings. The biggest benefit is, that the swabbing of the blanks is standardized, with equal application of lubricant in each blank. Less lubricant is applied compared to manual swabbing. This allows the blank temperatures to return to normal levels faster. Logically this results in significant gain in efficiency, with less defects produced. In addition, the operator is relieved from his swabbing task, is gaining time to control the IS-Machine more effectively.
Less lubricant
With the efficient application, savings in lubricant consumption can be more than 70%. Besides that, the system reduces the safety risks for the operators as well. The Swabbing Robot accepts a variety of lubricants from different vendors, allowing the customer to maintain its relationship with current vendors. Another positive side effect is, that blanks stay cleaner for a longer period of time. This means increased stand time and the blanks require less maintenance and repairs at the mould shop.
Immediate payback
Conclusively, the Swabbing Robot, proven at more than 40 installations worldwide, is an easy to operate automatic blank swabbing system which provides immediate payback on any production line with increased safety for the workers on the shop floor.
To read more, please click here