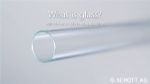 Experts who want to delve deeper into the chemistry of pharmaceutical glass can now obtain a 4:30 minute visual introduction from SCHOTT. The company has published a brief video in English on the important role that glass plays in the pharmaceutical industry. "What is glass" tells how this fascinating material starts out its life as sand and how it is transformed into the high-quality type-I-glass used in syringes or vials, for example.
The scientific basis was provided by Dr. Bettine Boltres, Product Manager Pharmaceutical Tubing at SCHOTT: "Glass in its purest form – known as quartz – is a very stable material but comes with limitations in terms of processability", Boltres explained. "In order to make it processable, however, adding certain substances to the glass formulation – making it a borosilicate glass – is a necessary step. The challenge for pharmaceutical glass types is to offer excellent hotforming capabilities without compromising the chemical stability. How this is realized, is explained in the video. "
SCHOTT's extensive knowledge is not without reason: The international technology group has been active in the field pharmaceutical glass for over a century. It only seems natural to end the film by quoting the company's founder Dr. Otto Schott, who once said that glass was not just a pure coincidence. "Looking at the increasing need for high-quality materials, it seems that his words are more relevant today than ever before", Boltres concluded.