"SCHOTT ROBAX® IN FRONT – THE NEWS" – Under this headline, SCHOTT ROBAX® is inviting visitors to take a look into the future at the ISH trade fair in Frankfurt/Main from March 11 – 15, 2019 (Hall 9.2/Booth D10). The premium brand will captivate visitors with hot news about its glass-ceramic fire-viewing panels. For instance, ROBAX® TrueView ensures the clearest possible view of the flames in gas fireplaces. The ROBAX® IR Max coating can now be combined with all decorative colors the brand has to offer. The interior paneling ROBAX® Magic with Signature Impressions allows manufacturers of gas fireplaces to create completely new designs and flame effects. In addition, a surprise awaiting visitors to the booth will whet their appetites for the future.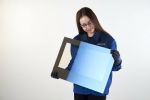 Serial production of ROBAX® fire-viewing panels started 40 years ago and more than 100 million units have since been sold. Back then, news was still spreading through different channels than it does today. Visitors to the SCHOTT ROBAX® booth can experience how this works: Between the stylized backdrops of the advertising pillar, newspaper kiosk and radio station, the innovations that have made the brand successful yesterday and today – and will make it successful tomorrow – come alive.
News for demanding connoisseurs: ROBAX® TrueView
ROBAX® TrueView, the glass-ceramic fire-viewing panel with an anti-reflective coating on both sides, avoids reflections from the surroundings of the fireplace. The observer is thus ensured the best possible view of the flames – almost as with an open fireplace, but with the safety of the protective glass-ceramic.
News for creative minds: ROBAX® IR Max with highly flexible printing
Good news for manufacturers and lovers of wood fireplaces: The ROBAX® IR Max heat-reflecting fire-viewing panel can now be combined with all ROBAX® decorative colors. This also includes three Metallic Design Effects, each combining two printing colors. The coated glass-ceramic reflects up to seven times more heat radiation back into the combustion chamber than an uncoated fire-viewing panel. This applies to infrared radiation (IR) in the wavelength spectrum between 800 and 8,000 nanometers.
News for trendsetters: ROBAX® Magic with Signature Impressions
The gas fireplaces so popular in the United States are also becoming increasingly popular in Europe, which has traditionally been dominated by wood. Gas fireplace manufacturers now have even more opportunities to differentiate themselves. The interior paneling ROBAX® Magic increases the design variety with "Signature Impressions," a new collection of color, surface or print decorations, which create new visual effects: The flames appear larger and the combustion chamber deeper. Unlike other interior materials, no discoloration occurs. The panels offer excellent reflectivity and have a modern look. Several design examples will be on display at the trade fair, allowing customers to choose from a wide range of possible combinations.
News for curious developers
"We also have a surprise waiting for curious fireplace designers in our exhibition bag. Visitors to our booth will have the exclusive opportunity to experience the prototype of a world innovation on site," says Stefan Hergott, Head of Sales & Marketing for SCHOTT ROBAX®.
The trend topic of outdoor fireplaces will also be on stage at the SCHOTT booth: the Fuora K gas fireplace from Spartherm will be on display at the booth. This fireplace is based on the winning design of the ROBAX® Design Award 2017 and, thanks to two 3D-shaped ROBAX® dome panels, offers the best view of the fire and maximum fire enjoyment.
Visitors should also make note of the second day of the fair (Tuesday, March 12, 2019) in their calendars: Starting at 5 p.m., SCHOTT will be staging a booth party to celebrate the 40th anniversary of serial production of ROBAX®. "Everyone is cordially invited to join us," says Stefan Hergott.
SCHOTT is a leading international technology group in the areas of specialty glass and glass-ceramics. The company has more than 130 years of outstanding development, materials and technology expertise and offers a broad portfolio of high-quality products and intelligent solutions. SCHOTT is an innovative enabler for many industries, including the home appliance, pharma, electronics, optics, life sciences, automotive and aviation industries. SCHOTT strives to play an important part of everyone's life and is committed to innovation and sustainable success. With more than 15,500 employees at production sites and sales offices in 34 countries, the group has a global presence. In the 2017/2018 fiscal year, SCHOTT generated sales of 2.08 billion euros. The parent company, SCHOTT AG, has its headquarters in Mainz (Germany) and is solely owned by the Carl Zeiss Foundation. This is one of the oldest private and one of the largest science-promoting foundations in Germany. As a foundation company, SCHOTT assumes special responsibility for its employees, society and the environment.