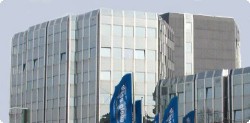 glassglobal Group Network
Special consultancy for glass makers and processing companies.
The "Glass Technology Area" demonstrates the process of glass production to prospective customers. The areas cover the complete production process from batch supply to the melting and production technology until packing and storage at the "cold end".
Portal Sites for the Glass Industry - glassglobal.com
Leading E-Commerce provider for the glass industry. With glassglobal.com, we have created the most important international company database with machine, job market and news channel for the international glass industry.
We cooperate with important international exhibitions such as glasstec, China Glass, GlasstechAsia, glassman, Gulf Glass etc. and international expert magazines such as Glass, Glass International, Glass Worldwide, Verre Plat, Vitrea aso. We also exhibit on mayor international events to support our portal with personal presence.
Programming such as Batch Calculation, Glass Calculation, Furnace energy balance; Job Market for glass professionals, Market Place for glass machines.
plants.glassglobal.com
glassglobal Plants is your gateway to the international glass producing industry.
We have collected data from glass producers worldwide including production capacities, the number of furnaces, furnace types, products, furnace suppliers and years of construction.
Moreover, we have compiled financials from global players, production data, demoscopic data for countries as well as import and export data, and we have elaborated a forecast about future glass consumption in all global regions.
Expert engineering for glass producers
ggENOx - unique solution for glass producers providing environmental benefits with NOx and CO2 reduction specially for container glass furnaces
ggDAS Furnace Data Analyzing System with live recording and reporting options