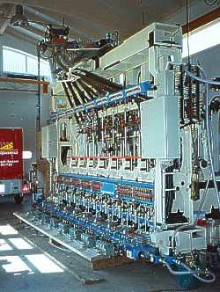 Siegler Hohlglasservice is a business, specialized in IS-technology, which flexibly takes attention of the needs of the Glass Container Industry.

We can handle all typs of IS-machines and are able to support you, not only in mechanics, but also in introducing and teaching your personnel for your business to achieve optimal results.
We execute repairs, overhaul and install your feeders, shears and rotary tube mechanisms. Trouble with your IS-machine? Just call our 24/7 emergency service guaranteed by our centralizes position in Germany.
---
Endereço
Empresa
Siegler Hohlglasservice
Endereço
Wiesenfurt 45a
97833 Frammersbach
Telefone

0049 9355 7163
Fax
0049 9355 7597
Email
Email Contact
INTERNET
www.hollowglass.com
Ano de fundação

1989
---
Informações de contato
| | |
| --- | --- |
| Nome | Sr. Alfred Siegler |
| Posição | Geschäftsführer |
| Telefone | 0049 9355 7163 |
| Fax | 0049 9355 7597 |
| Email | Email Contact |
---
---
Produtos

We carry out the following works, respectively support them with our Know How:
Training of your IS-personnel for example in:

Funktion and performance of mechanisms of an IS-machine and error detection
Funktion and operation of feeder mechanisms
Elimination of errors at glass containers
Support of production

Development and installation of special solutions
Aligning of mechanisms and delivery systems
Installation or control and coordination of the installation of complete IS-equipments
Refurbishment, maintenance and installation of feeder mechanisms
Modernisation of equipment by means of electronic controls
Installation of equipment for Narrow-Neck Press-Blow-Process
Undertaking of regular maintenance and control of your machines including report
Change from scoop mechanism to gob distributor
Repair in case of fault each time
If you need further information about our field of activities or look for special solutions for your company do not hesitate to contact us.
---
---
Notícias
Tipo de ficheiro

Tamanho

JPG
19252
Overhaul of IS-8
Überholung und Modifizierung einer Maschine in unserer Firma / Overhaul and modification of a machine in our works
download
---
---